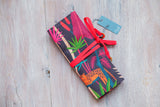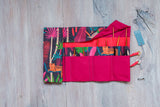 Circular Needle Organiser - Tropical Forest
€56.00
Keep your circular knitting needles organised in these strikingly colourful bags. They are made out of a beautiful linen/cotton (light canvas) fabric. Once unfolded the organiser consists of 6 segments. Each segment consists of 3 rows of pockets (making it a total of 18 pockets). The top flap helps to keep the knitting needles safely in place. The organiser can be fastened with the attached coordinating strap. Due to the strong linen/cotton blend and the additional cotton interfacing, the bag is quite sturdy and holds its shape nicely.
Please note that due to the pattern repeats each bag is individual and not necessarily identical to the depicted bag.
Size: Unfolded 58 x 25.5cm, folded 10 x 25cm
Material: Exterior fabric: 55% linen, 45% cotton (light canvas). Lining: 100% cotton
Design Details: Three rows of six pockets per row (total of 18 pockets); each pocket is approximately 8.5cm wide and 12cm deep.
Care: Dry clean only