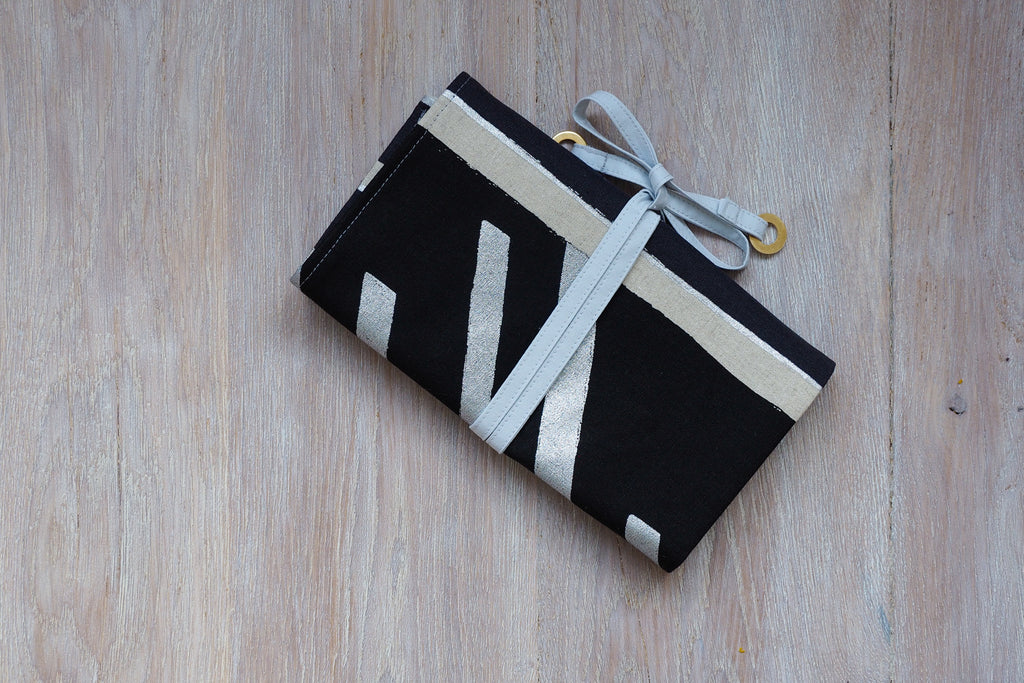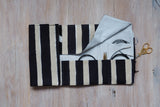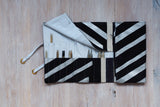 Interchangeable Organiser - Metallic Stripes
$61.71
Keep your interchangeable knitting needles organised in these strikingly colourful bags. They are made out of a beautiful linen/cotton (light canvas) fabric. Once unfolded the organiser consists of 4 segments. These segments consist of 2 rows of pockets in a variety of widths (ranging from 2 to 8.5cm) to fit your different sized interchangeable needles. The largest pockets (4) are spacious enough to keep the detachable cables. Additionally this organiser features a zipper-pouch, which can store accessories (end caps, cable keys and cable connectors). The organiser has a total of 24 pockets plus the zipper-pouch. The deep top flap helps to keep the needles safely in place. The organiser can be fastened with the attached coordinating strap. Due to the strong linen/cotton blend and the additional cotton interfacing, the bag is quite sturdy and holds its shape nicely.
Please note that due to the pattern repeats each bag is individual and not necessarily identical to the depicted bag.
Please note that the interchangeable knitting needles are not included in the organisers.
Size: Unfolded: 49 x 22cm Folded: 12 x 22cm
Material: Exterior fabric: 55% linen, 45% cotton (light canvas). Lining: 100% cotton
Care: Dry clean only